This morning we had an opportunity to look around this city with Pastor Walter Toro. He told us about some of its problems, highlighting especially the challenges faced by young people. Unemployment is a major problem, as it is in all countries, but here it is so bad that many young people don't bother even looking for jobs. Alcoholism also runs at a high level among this age group. Yet... outwardly the city is so beautiful. The photo of Walter (centre) with some of the team was taken in one of the main squares.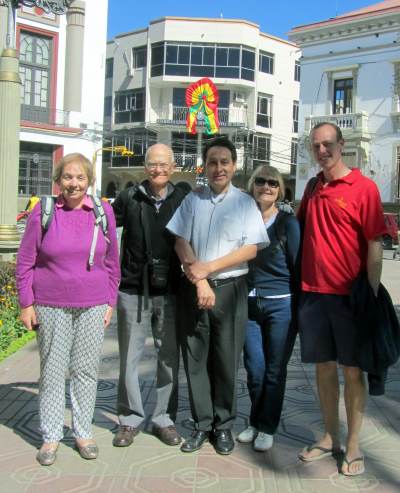 Walter's church is especially focusing on family life at the moment. Yesterday evening there was a teaching session on the relationship between parents and children, and tonight's session was about parents and teenagers. Guest speaker Pepe spoke on both evenings, with additional teaching from team members Maurice (last night) and Matt (tonight, with Maurice translating - though Matt did introduce himself in Spanish).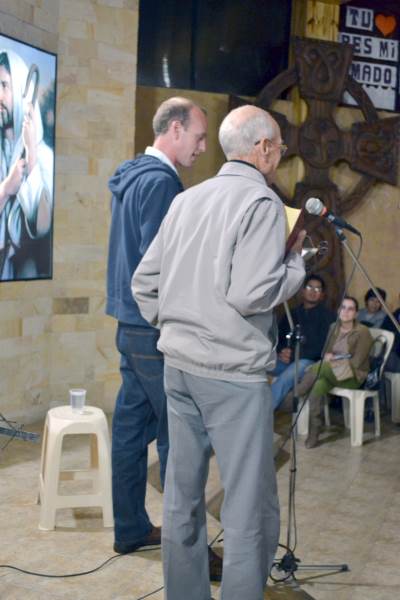 Matt was able to draw on his knowledge of postmodern culture, and had also previously asked the opinions of some young people in Christ Church - so thank you to everyone who contributed to Matt's talk.
Matt is leading another session tomorrow evening. This one is for young people rather than their parents. Also happening on Saturday is a day-long retreat for church members which we are all involved in leading, so it's going to be a busy day - but should be a rewarding one.