Mision Cristo Resucidado is a new church being planted in the Miraflores district of La Paz. It does not have Sunday services but instead its members meet and grow in midweek cell groups.
The idea of "healing on the streets" is simple: some people offer prayer to passers-by, while two or three groups pray on the street for those who want it. We joined pastor Nelson and some church members in an evening session on one side of a public square. The photo shows Nelson with one of the banners promoting the event. (Northern hemisphere readers please note: it's winter here, and dark in the evenings.)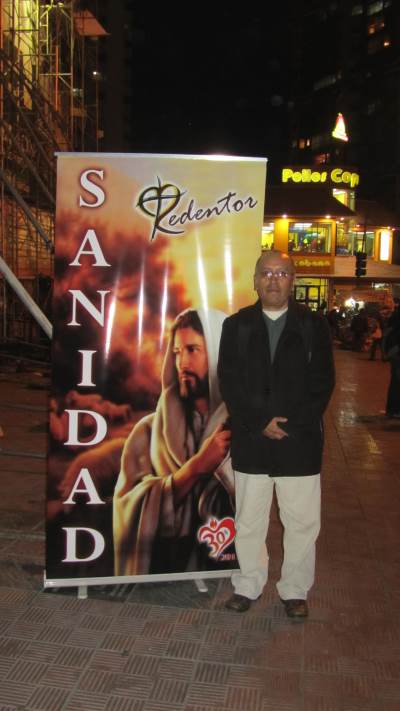 Few of us on the team had previous experience of this kind of activity, and the language barrier could have made things a lot more difficult. In fact those doing the inviting were able to make themselves understood, with the help of Spanish speakers if necessary, and the prayer was conducted in a mixture of English and Spanish.
Over 20 individuals or couples were prayed for. The most dramatic result that we know of was a woman with a severely arthritic right hand who was able to move it freely after prayer. Nelson will also be following up on at least two other people who requested prayer over broken relationships.
The session reminded us just how much hurt there is out there, and of the power of God to heal it.