Thank you to everyone who prayed for the first of the evening healing services in Cristo Luz del Mundo. It was quite an occasion...
The worship singing at the start of the service was powerful and heartfelt, as we have found everywhere else in Bolivia. Something we had never seen before was the choreographed dancing with flags which accompanied the music. Later on, the sight of a large flag bearing the name of Jesus somehow added confirmation of the presence of God.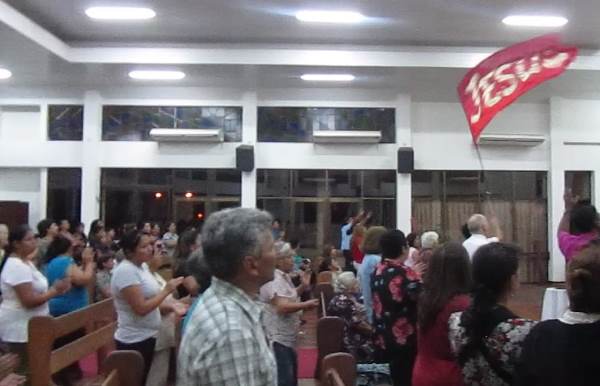 The talk was given by Alfredo Cooper, who describes himself as Anglo-Chilean. Never mind the Anglo bit - his style of faith and preaching is very Latin American.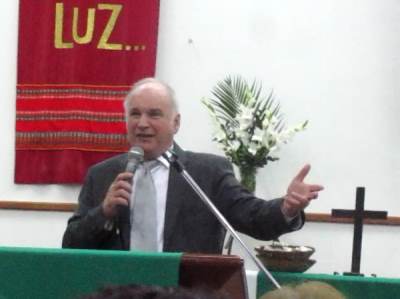 Alfredo knows a lot about the power of prayer. As Chaplain to the President of Chile, he was instrumental in getting the President, other Government ministers and the whole world praying when 33 men became trapped in the San José mine in 2010. When the first attempt to drill down to the men failed, some were for abandoning the attempt. But the President had become convinced through prayer that the miners were alive, and a second attempt was made. That drill too would have missed had it not hit an exceptionally hard section of rock and been deflected into the mine. Both above and below ground, Christians played a key role in the subsequent rescue of the 33 miners.
Although the men became known as the Chilean miners, one was actually Bolivian. Alfredo pointed out to the congregation that for those few weeks a Bolivian was involved in providing hope and Christian witness to the whole world.
Alfredo spoke about the power of Jesus to save and to heal, and then invited people to come forward if they wanted prayer. This was the point where we in the team would get involved in praying for people - but how many would there be? When the entire congregation went forward, our carefully worked out plans were abandoned and we just got stuck in and prayed, as individuals, twos or groups as the need arose. We rather lost track of time but this must have gone on for an hour or more.
We know that some people made commitments of faith and accepted Christ. Stories of healing will no doubt come out over the next couple of days as these events continue.
Thank you again for your prayers. The work goes on!