We are happy to let you know that we have all safely arrived in La Paz, Bolivia! Most of us arrived at 5.30 Thursday morning and we were happily reunited with Phil and Miriam who had already been in South America for 2 weeks and came the long way round.
Our journey went smoothly, but there was an initial hiccup over needing visas to stop over in the USA at Heathrow. We're really thankful for your support and prayers.
We are on the whole adjusting well to the new environment, and are getting accustomed to the high altitude. We feel short of breath and have had a few headaches but no-one has been put out of action. We still feel tired from travelling.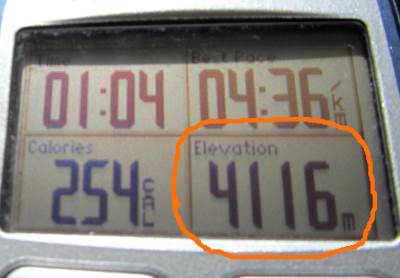 The photo of a GPS display was taken at La Paz airport - note the highlighted altitude! The Cristo Redentor church where we are staying is lower down, at a mere 3300 metres.