On Saturday afternoon we joined with the women's group in Cristo Redentor church (the men came too!). We wanted to bring something of real value and decided to focus on encouraging these women to receive more of God's grace.
Emily, Miriam and Margaret all told personal stories of how God had surprised them by leading them in a new direction in their lives. We then spent a short time in silence just listening to God - something we do quite often in Christ Church but may well be new to our hosts. Team members said what they thought God wanted to say to the women present and it was a great encouragement to find out in conversation afterwards that many of these words had spoken directly to individuals.
We were treated to a wonderful tea and were then presented with a handmade cross to thank us for our visit. For now we can only show a photo but, members of Christ Church, you will see the real thing before long!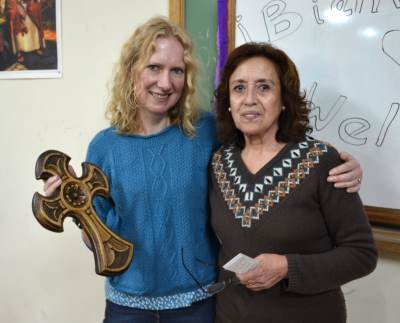 There was a real sense of fellowship and God's presence and we really hope that the members of the women's group were encouraged as much as we were. We all joined together for a group photo at the end.