If you think that a conference of Anglican church leaders sounds a bit boring, you probably need to get out more. May we suggest Bolivia?
We continued where we had left off the evening before, as Alfredo gave more examples of church growth in Chile. The Bolivian leaders were urged to set up websites for their churches (guess who led that bit) and a representative from the student El Alfarero project immediately offered advice and help to anyone who needed it.
Geoff showed some photos of Christ Church and explained about some of our outreach activities, and then Chris was back at the front going through more aspects of the Transforming Church programme. It was when he got to the last topic and started talking about the relationships between local churches and pastors that things took an unexpected turn.
Chris felt moved to talk about a time in his ministry that had been personally very painful but led to the start of growth in his church. For some time the awareness had been growing of the burden that many Bolivian pastors have been bearing and they were all brought to the centre of the room. We started to sing:
Te anhelo, te necesito, te amo, más que mi ser.
(I long for you, I need you, I love you, more than my own being.)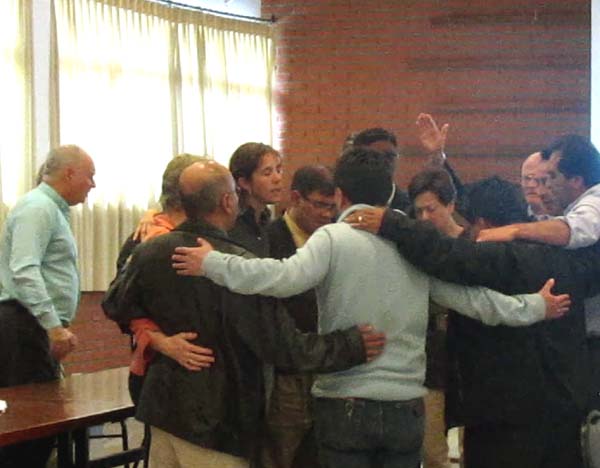 During a time of prayer there was a strong sense of healing and restoration of relationships. Bishop Raphael was given a message in prophecy which he confirmed was identical to one given at his consecration three months ago.
It felt as though God had stepped into the meeting. For those of us visiting from Birmingham, perhaps this is why we really came.
The last item on the agenda was Bishop Raphael's presentation on his vision for the church in Bolivia. This is very much rooted in his own personal experience and calling.
Today we were powerfully reminded that the church is about God and his relationship with people, not structures and traditions.