After a break for lunch, we were in action again as we headed out of the city to the new town of Satélite Norte, where two years ago Beccy and Dan had visited a new outreach project to children run by young members of Cristo Luz del Mundo. The motivation for the project was the high level of social deprivation and the relative lack of Christian witness in the area.
It had always been the aim to plant a new church here and our visit was in effect the launch event for Cristo Príncipe de Paz (Christ the Prince of Peace) - the name having been chosen to reflect the needs of the area. When we arrived the sign was still being hand painted but was soon on display outside the rented building where the activities now take place (a couple of blocks away from the site that Beccy and Dan visited).
The afternoon started with some lively singing which the children joined in with great enthusiasm.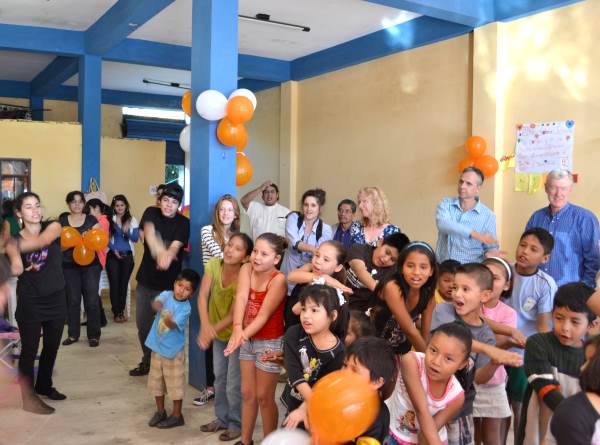 The children were then divided into groups - each accompanied by one team member - and were given T-shirts which they started to colour with acrylic paints. With only pencil marks to guide them, the children set about colouring in a map of Bolivia - they needed no prompting to use the bright colours of the Bolivian flag - and then painted the name of the new church on the front of the T-shirt, and a Bible verse on the back. Many groups chose to add extra flags, smiley faces and other adornments. This was a great opportunity for us to talk to the children and marvel at their friendliness and good behaviour. At the end of the session, to our delight, each team member was given one of the T-shirts.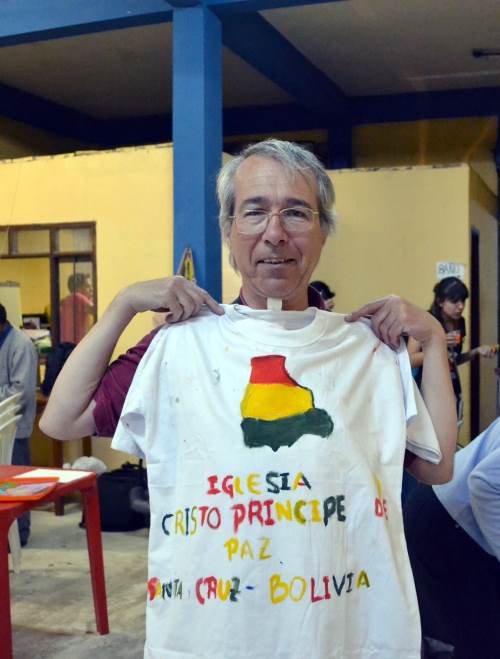 To launch the church the parents were invited to join us for tea at which some of us told our stories of faith. The first weekly Bible study will be held next Friday evening - there's something to pray for!
What impressed us most was that this whole enterprise was initiated and developed by young members - with the full backing of the whole of Cristo Luz del Mundo. Their faith and commitment were truly inspiring and we felt privileged to be present at the birth of a new church. We also really enjoyed spending this time with such a lively group of children.