Sunday was a very exciting day but also long and tiring, so please forgive us if this post does not do justice to the events of the day. Later: the original blog post was split in two to form this article and the next.
In the morning we divided our forces between the two Anglican churches in the city of Santa Cruz. At Cristo Pan de Vida, where we all spent the day on Saturday, Chris officiated at Communion, demonstrating his skill at reading Spanish.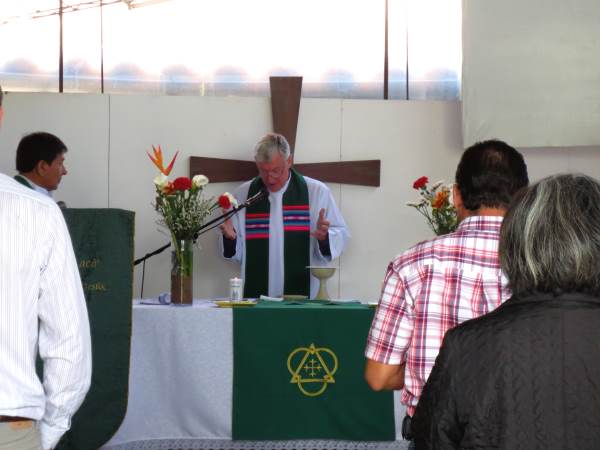 Matt preached the sermon, and managed to sneak in some British humour - which was much appreciated by Bishop Raphael, who was visiting to add encouragement to this congregation. There was a lovely feeling of God's presence as the team prayed for the church, and they for us. We really have been warmly welcomed wherever we have gone.
Meanwhile, at Cristo Luz del Mundo, Maurice officiated at Communion. Geoff preached the sermon, and referred to one of the songs we sang during the extended time of worship with which the service began:
Vine a adorarte,
Vine a postrarme,
Vine a decir que tú eres mi Dios.
You may know the song better as "Here I am to worship, here I am to bow down..." Geoff recalled that he had known the writer, Tim Hughes, when he was still a boy in Birmingham. Someone in the church where Tim grew up prophesied over him that he would one day be a worship leader, and now here we were, in a faraway continent, singing a song that Tim had written. Only while he was speaking did Geoff realise that the title of the song - "Light of the world" - was also the name of the church in which he was preaching.
That opening time of worship was memorable for another reason: the flag team had recruited an extra temporary member, who performed all the choreographed moves in perfect timing with everyone else: