Funding the new building
The Building Project was completed on a financially sound basis. This page gives a flavour of how this was achieved.
From the very beginning of the project, we knew that we had to balance our desire for a worthwhile building with our ability to pay for it. The current evidence is that we have got it about right: the building is as large as can reasonably be fitted on to the site and provides adequate facilities, while just being affordable.
The building cost is just over £1.1 million, with professional fees and some additional costs on top of that.
The design brief was to provide maximum value for money, and every effort has been made to keep the cost down without sacrificing anything essential.
A solid foundation
Serious fundraising began over 10 years ago when it became clear that a new building was needed. By April 2005 the total raised had climbed to £300,000, and this more than doubled by the end of May 2006. We saw that year as a test of our ability to raise the required funds, and the project received the go-ahead on the basis of the progress made.
At this point almost all the money raised came from personal donations and from fundraising activities organised within the church.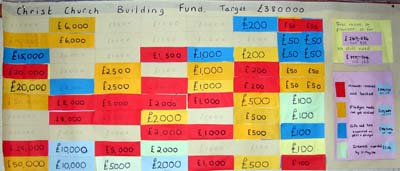 Looking outside: External funding
Once we went public with the project, the way was open to applying to charitable trusts for funding.
Each charity has its own priorities for allocating funds, and in each case we have had to assess whether we fall within those criteria and, therefore, whether an application for funding would be appropriate. The effort involved has been well worthwhile, as we have obtained funding from a wide range of charities.
Contributions from some commercial and other organisations have also been received. These are listed below, along with the charitable trusts.
Balancing the books
It was recognised early on that we would need to have cash in hand to pay the bills once building work commenced. A loan facility was therefore agreed, though this will not be used until the building is nearly finished.
A business plan has been drawn up to cover the use of rental income from the building to repay any outstanding loan.
Thank you!
It has been a great ecouragement to us to receive donations from a wide range of charities: local and national, large and small. For some of the smaller trusts, their contribution represents a significant proportion of their annual spending.
We recognise our responsibility to ensure that our use of the building fulfils the aims of those who have supported us.
The Allchurches Trust Limited
Baron Davenport's Charity
The Bernard Piggott Trust
The Bernard Sunley Charitable Foundation
Bewley Charitable Trust
The Bryant Trust
Central Networks
The Cook and Wolstenholme Charitable Trust
Diocese of Birmingham
Edward Cadbury Charitable Trust Incorporated
The George Henry Collins Charity
The GMC Trust
Grimmitt Trust
The Jarman Charitable Trust
National Churches Trust
K Haberson
Margaret Piggott Trust
Maurice and Hilda Laing Charitable Trust
Richard Cadbury Trust
The Roughley Charitable Trust
Selly Oak Community Chest
The Sparkhill Trust
The William A Cadbury Charitable Trust
W E Dunn Charitable Trust Limited
When we were making a list of charitable trusts to approach for funding, we hardly thought that the Historic Churches Preservation Trust would be interested in a new building like ours. It's a good thing we applied anyway, because the National Churches Trust, as it is now called, has made one of the largest donations to our project.
The charity works at keeping church buildings in good repair and in good use, recognising the value that churches have to local communities. Its aims are very much in line with ours and we are happy to encourage anyone to support the Trust.
Putting the fun into fundraising
Raising a million pounds or so is a challenging task, but the experience has been a surprisingly enjoyable one.
This is thanks in part to a principle that we have followed throughout: that every contribution is valued, whether large or small, in money or time. The effect has been to strengthen us as a community and keep everyone involved as the momentum of the project has built up.
Our members are constantly thinking up new fundraising ideas. A Talent Auction raised several thousand pounds when lots ranging from holiday accommodation to home-laid free range eggs went "under the hammer". The sale of home-made greetings cards has proved a profitable way of applying our creative skills, while a sponsored parachute jump set new standards for bravery.
Thanks, but no thanks...
We are not applying for lottery funding, in line with the deeply held convictions of members of the congregation.
Nor are we making any public appeal for funds, though of course we are grateful for any donations to the project.