Stand up for comedy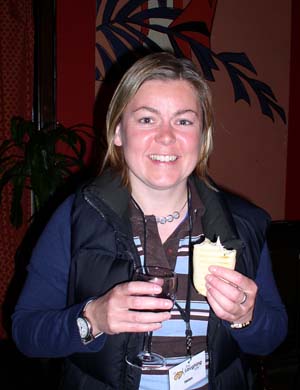 "I'm always looking for new ways of putting Christian values into action. The Laughing Sole's Christian ethos is what sets it apart and gives it its sense of community"
"I woke up in the night and the idea just came to me. What if I were to start a comedy club that would get real laughs and help build community?"
Helen Tomblin has always loved comedy - so much so that she enrolled in a course in stand-up. "I was going to a comedy club every week," she explained, "but was put off by the amount of swearing, which just didn't seem necessary for a good joke."
Helen's local pub, the British Oak in Stirchley, were happy to provide a venue. As for a compère... who better than the tutor of her stand-up course, one of Birmingham's most popular comedians, Barbara Nice.
The Laughing Sole Comedy Club was launched in February 2007, to a storm of media interest. "It will never last," said the critics...
Not only did it last, but it became the launchpad for Helen's career as a comedy promoter. Performances at the British Oak came to an end in December 2015 when the impending sale and possible redevelopment of the pub meant that it could no longer provide a guaranteed venue.
Helen was once the youth worker here at Christ Church before continuing with youth work at the Diocese of Birmingham. She now works for the Safe Families for Children childcare charity, displaying the same care and concern as she does for comedy performers and audience members alike.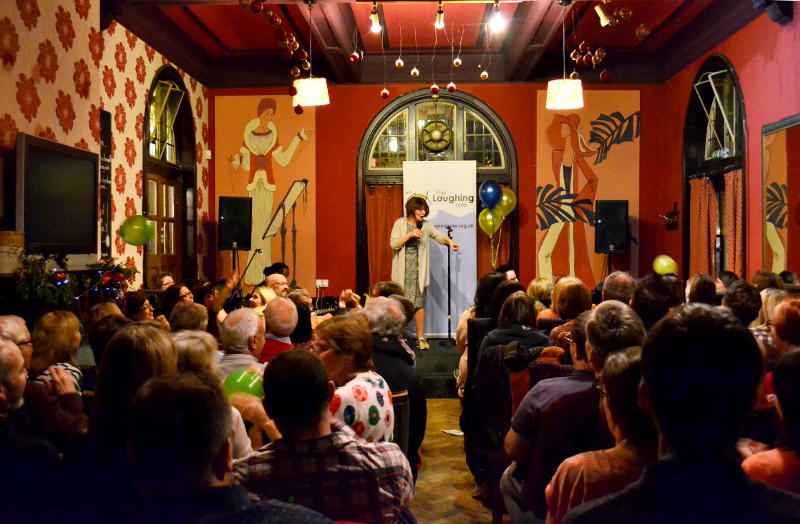 Our main hall was packed when stand-up comedian and TV actress Jo Enright featured in a My Faith, My Life special at Christ Church.
Our resident comedy promoter Helen Tomblin asked Jo about how being a Christian affects her work. She talked about the advantages - such as being able to pray when in a hostile environment - and also the kind of difficulties that can arise when the demands of a script conflict with her faith.
They went on to talk about what sort of material is appropriate to use, especially when it touches on sensitive issues. Jo's act draws heavily on her personal experiences and observations. Not everything in her life is fair game for comedy, but first-hand experience of difficult situations enables her to bring humour out of them in a way that others could not.
The centrepiece of the evening was Jo's performance of her stand-up act which, she revealed in her intervew, included stories she had never included in her act before. The audience included church members and guests, young and old, and we all loved it.