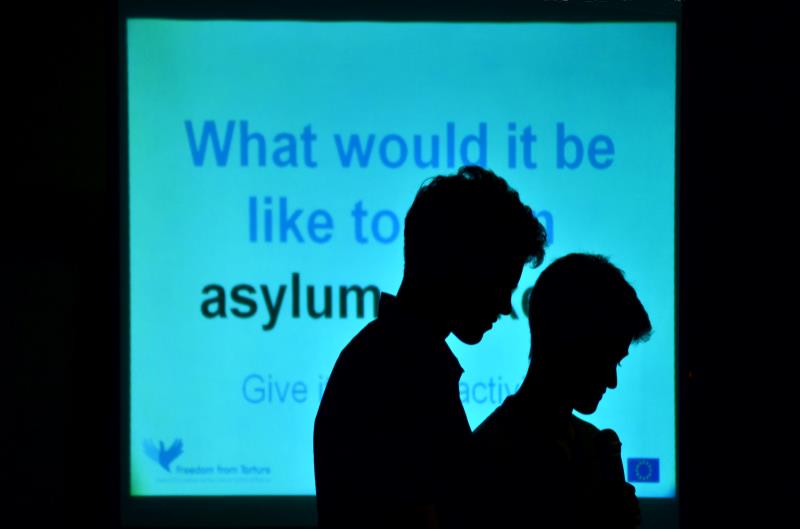 There are victims of torture right here in Birmingham, many seeking asylum from the regimes that tried to silence them. We learned about what can be done to help them and discussed some of the wider issues in a Café Church session led by Amy and Jill from the charity Freedom from Torture.
The asylum challenge
You've fled your home country having suffered physically and mentally at the hands of its government or agents. Surely on arrival in Britain you will be offered safety and recovery… or will you? In this activity we learned about some of the obstacles asylum seekers face.
On arrival you will be interviewed and asked to provide evidence to back up your story. This is going to be hard to do because what evidence there is, such as hospital records, is probably in the country you have left behind.
As the legal process proceeds you will probably be provided with basic accommodation and a means of buying food, which may well be in the form of vouchers rather than cash. You may have to move to another part of the country, breaking whatever support networks you have established. You are not allowed to work to support yourself and may be held in detention at times.
The legal process can be slow and subject to lengthy delays. At the end of it all is the risk of refusal and, eventually, deportation to the country from which you originally fled in fear.
In Christ Church we've had the privilege of befriending a number of refugees over the years and some of us are only too familiar with these obstacles.
Facing the problem
There is ample evidence that torture is being used by governments and its agents in many countries around the world as a means of silencing critics and instilling a culture of fear. Peaceful protest, providing medical care to political opponents, just being in the wrong place at the wrong time: everyone is at risk of arrest, torture and even death where oppressive regimes are in power or where security agencies are not kept within proper limits.
In this Café Church session we were challenged to think about whether the use of torture could ever be justified. The simple fact is that its use is illegal under international law.
Some of those who survive their maltreatment try to obtain justice, either within their own countries or having sought asylum abroad. We watched videos produced by Amnesty International Canada showing examples of both.
Supporting the survivors
Freedom from Torture provides medical support to victims of torture who are referred by the Home Office or other agencies for assessment and support. Its Birmingham centre – one of several around the country – is designed to be as welcoming as possible to people who have been traumatised by their experiences, for whom even the sight of a long corridor can bring back memories of imprisonment.
Churches and other faith groups can help by befriending and offering emotional support to victims of torture. As individuals we were encouraged to raise awareness of the issue. More ways to help are listed on the Freedom from Torture website.
Although this was not primarily intended as a fundraising event, over £160 was raised through donations and sale of Christmas cards.
There's more about our community links on our Community Action page.