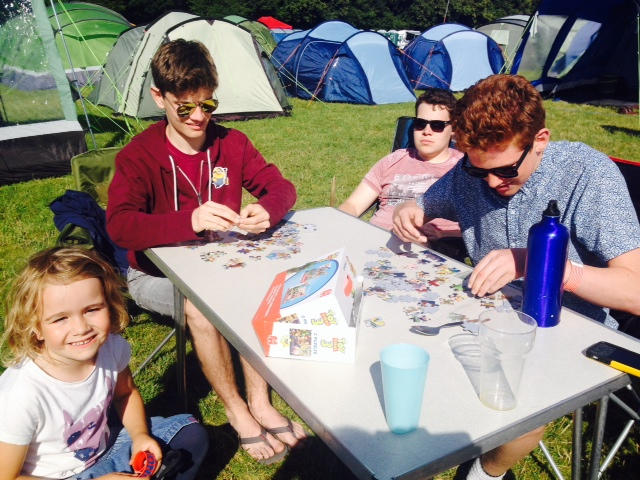 In summer 2015 a group of young people and leaders from Christ Church joined thousands of others in worship, learning, enjoyment and challenge. The event helped to build the faith of one member of the group in particular and make her ready to take the next step in her life.
My story: Charis
"Before coming to Soul Survivor I had decided to take a gap year with a BMS Mission team in Uganda, but I needed a lot of persuading to go and was having a lot of doubts about it."
"In an evening meeting two South Africans spoke about their work caring for orphans. One of them described how he first went to the village and his heart broke at what he saw. It made me realise how many times my heart had been broken and that being willing to do what God says is the only qualification you really need."
"They called people up to the front to give themselves to God in the work of mission and although I said 'Yes, God, use me' inside, I didn't feel as though I could go to the front. I'm just not that kind of person. I was at the front in spirit, but not in body. Two others in the group sensed this and stood by me and prayed."
"I suddenly felt a massive pain in my chest, as though my heart was being crushed and my ribcage was expanding at the same time. I had been told that when people feel the Holy Spirit at work it can make them want to scream and I said 'this isn't going to happen to me'. I could feel the tears building up inside my eyes but was determined not to cry or fall to the ground."
"Then I heard Mike Pilavachi, who leads Soul Survivor, say, 'I know some of you are not big in showing emotion, but it's OK. You can let it out'. And when this happened, tears just cascaded down my face. Then one of my favourite songs called Oceans came on and I stopped crying and felt a sense of peace. At the line 'Spirit lead me where my trust is without borders' I thought about going to Uganda. I knew then that God would be with me."
"I may not think I can do it but God thinks I can, and he won't leave me to do it on my own"
At the end of July over a dozen young people from Christ Church, plus leaders and some children too, spent some damp but very inspiring days at Soul Survivor.
The main meetings included times of worship (led by a huge band – quite an experience alongside 5000 other people), teaching and challenge. Among the speakers were a couple who were running a village caring for orphans in South Africa, and another guest who was working to help young people to get out of gangs in East London.
Other events during the week included a UV party, a Christmas party (why be conventional?), and a foam party – as if everyone was not already wet enough.
My story: Tom
"This was my fifth year at Soul Survivor so I had a very good idea of how the week was going to go. I was especially looking forward to the worship. It's very enjoyable to be able to sing with your mates and really connect with God."
"Then… on the first day I picked up a throat infection, and I could barely speak. This lasted throughout the week meaning that I couldn't actively and openly worship nor enjoy conversing and chatting."
"Because of this I was open to a new way of experiencing God. As my Dad said: I need to learn to listen. The main meetings gave me several hours each day where I could sit and be in God's presence and just listen to what he has to say and talk to him and witness his effect on others."
"It was really refreshing to take in a lot more than I had other years and overall this year was a very fulfilling experience."
"It was a real privilege to take away a group of young people who were keen to experience a fresh anointing of God's Holy Spirit. It was great to be a part of over 5000 young people worshipping and praising God. It was exciting to see what God was doing." – Co-leader Rachel
Find out more about youth activities on our youth page.