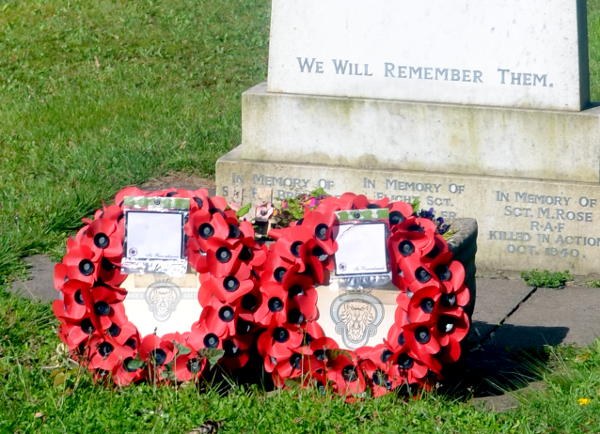 In the centenary year of the outbreak of the First World War, Christ Church members were invited to contribute family memories. These stories are a reminder of the human cost of the war and its legacy for succeeding generations.
Martin: My grandfather was at Ypres. He got wounded in the ankle – what they called a Blighty – so he came back to England to recover. By the time he got back to Ypres all the other men in his company were dead. So I wouldn't be here if he hadn't got shot in the ankle.
Geoff: My grandfather fought at Gallipoli and was one of the last ones out of the trenches. His job was to run along firing from the dummies they'd set up to make it look as though the men were still there. All the troops had legged it and he was one of the last ones to get off. He then fought on the first day of the battle of the Somme where he was wounded and his regiment were decimated. He spent the rest of the war in a German prisoner of war camp so I'm very lucky to be here. My Mum's uncle was also killed in the war.
Pat: My father was born in 1913 and his mother died in childbirth. His father went off to fight in the war and was killed. By the age of 3 my father was an orphan.
My mother was in a bombing raid in Tipton. She was in the house with her two older sisters when a bomb fell very near to the house and the children sheltered under the kitchen table. My grandmother worked as a seamstress and had gone to buy cotton in the local high street. She saw that all the windows in the high street had shattered and ran back to the house fearful that all her children were dead, cutting her feet on the broken glass in the high street as she went.
Ken: My father came down from Scotland to this foreign land of England to work at Cardington to help build the airship hangar and met my mother who was sewing barrage balloons. Then he went to France and was taken prisoner at Ypres. The Germans marched and marched them up and down and fed them on burnt bread which affected their stomachs. He survived that, came back and married my mother, but he died when he was 56.
Trevor: My grandfather had been a prisoner of war of the Germans, but never mentioned it until the Elvis Presley film GI Blues came out. There's a song in that called Wooden Heart and there's a middle eight where Elvis sings in German. It was an old German folk song and my Grandad could sing the whole thing in German. Quite a feather in his cap at the time.
John Mason: As children we were always slightly scared of my grandfather because behind his right ear there was a hole which was partly covered by skin. During the war a piece of shrapnel had entered his skull and lodged so close to his brain that they couldn't operate, so they just left it there. He survived to 84.
John Green has another memory of a war injury: My Grandad lost his leg in the First World War and he used to chase me with his crutch.
Miriam: My grandfather was born in East Prussia (now part of Poland) and was 42 when the First World War broke out. He was too old to fight but helped to guard Russian prisoners of war. He was Jewish which did not prevent him serving at that time, but when the Nazis came to power in the 1930's life became very difficult. My aunt emigrated to Argentina, where I still have relatives, and the rest of the family came to England.
Phil: My grandmother had six brothers, one of whom, Henry, was killed in France in November 1917. A tragedy of a different sort befell another brother, William, while he was serving in France. On the morning of 18 August 1918 his wife Louisa left the house in London where she was staying to go to Sunningdale in Berkshire where a Canadian serviceman had invited her to meet him. She never returned, and a few weeks later her body was found strangled in a wood near Sunningdale. There was no apparent motive for the murder and no evidence against anyone, and the crime was never solved. The couple's two young sons went to live with their grandparents and became estranged from William who remarried after the war. Although this was not a death in combat it resulted in the kind of family dislocation typical of war.
Daisy: At age 101 she can remember the war, and especially this air raid: When the German bombers came over Brownhills we went under our neighbour's table because we only lived in a cottage. The bomber went over and dropped the bombs in Walsall and killed the Lady Mayoress on the tram.
Bob: We were over in France at half term and we were early for the ferry so we diverted to the war memorial to all the missing – those whose bodies were never found. I've discovered a relative of ours who died in 1916 at the Somme. He was 19 which was very poignant because our daughter is 19 and he was just that young when he died.
Jacquie: My father was in the First World War. I can always remember that when we dropped a fork or knife on the quarry tiles in our kitchen he would jump out of his skin. He'd be really cross and walk out of the room and would never ever talk about the war.
In the Second World War he worked in logistics and went to Germany where he met my mother who was German. So here was an Englishman who fought in both wars as part of the British forces yet married a German.
Susan: My great-grandmother was from Silesia (then part of Germany) and she married my great-grandfather who was a Yorkshireman. During the First World War they had stones thrown at their house to break the windows.
Dave: My grandfather was a conscientious objector. He carried a stretcher throughout the whole of the war and when he came back he never talked about it at all. His sister was a nurse in a forward field camp and I still have her George Medal.
Cathie: When I was studying war poetry at school my great uncle Ern told me about his experiences of the First World War. We found his handwritten memoirs after my father died 3 years ago. In his superb writing he writes about Paschendaele and how thousands and thousands of men and animals died and drowned in the mud. His description of the total waste and uselessness of what was going on is extremely powerful. And at one point he was also involved in the Christmas truce where they played football with the Germans. So it's very powerful reading and really affected me and my view on war.