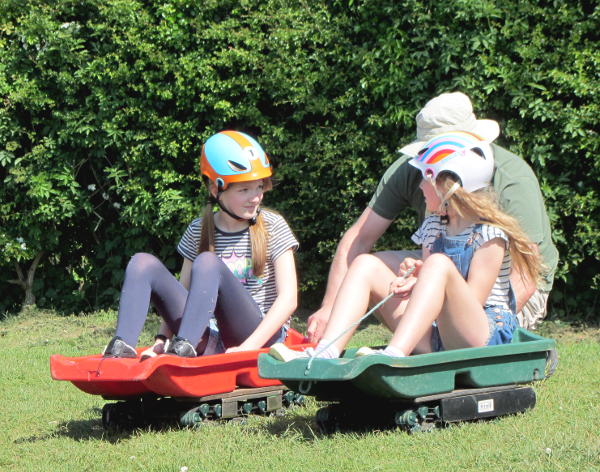 15 young people, some of them new to the group, spent a beautiful sunny weekend at Blackwell Adventure. The activities included grass sledging, a giant ladder climb, crate stacking, an obstacle course and team building games, all helped by the brilliant Blackwell staff. Youth worker Ellen Dann reports…
We looked at three Bible characters over the weekend. Each day leaders Ceri, Matt and Dan appeared with fake beards to play the parts of Joshua, Peter and Daniel! We looked at the lives of these characters, their ups and downs and how God used them. We made our own rock memorial when we were learning about Joshua and we drew some of the visions that Daniel received.
Helen Tomblin came on Sunday to do our last session for us. She had us running around with coloured slime on our hands (cornflower, water and food colouring!) This was a way of thinking about the Apostle Peter who was sometimes full of faith and like a rock and at others times he wavered and was like wobbly slime!
It was so good to get to know each other better, have fun, laugh and learn in such a great outdoor environment.
Dee helped us with our meals. It was great to have so many gifted youth helpers involved working as a team.
The Revive group is for ages 11-14 and this was an opportunity to welcome some new members who have moved up from FLAG and Kingfishers. Regular Revive sessions are on Sunday mornings and Wednesday evenings.
Find out more on our youth page.