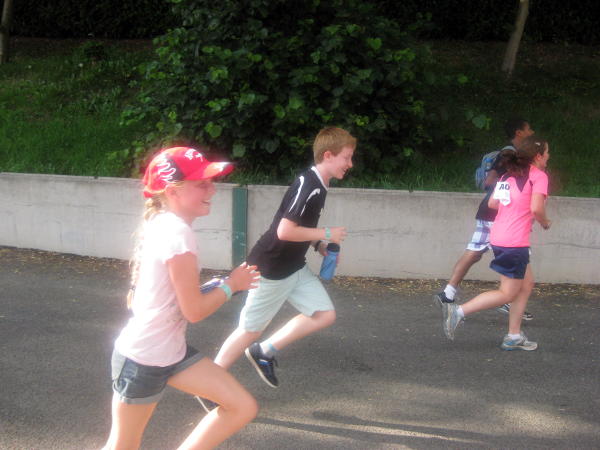 In summer 2014 a group of young people and leaders from Christ Church joined thousands of others at a lively, inspiring and colourful Soul Survivor. Youth worker Ellen Dann reports.
Colour Chaos
Water feature
This year's Soul Survivor was amazing! We had glorious weather and wonderful food cooked by Bobbie and Julia. Nineteen young people from Christ Church arrived on the Staffordshire showground to join thousands of other young people from across the country.
We set up our tented village and headed to the first big meeting on Friday evening. The main meetings include sung worship, teaching and prayer. The following day the young people chose to attend a variety of workshops on topics such as the persecuted church, being ready for university and how God can work through you in your daily life.
Each day was packed with inspiring talks, sports activities, meals, games, coffee shop venues and drinking hot chocolate way into the night!
There was a bit of a neon face paint theme going on this year which our young people really embraced. They came back to our tented village with various forms of neon "glow in the dark" artwork on their faces!
Some young people signed up to do the fun run and others went along to Colour Chaos which involved throwing dried paint over people.
We were inspired to think about the many needs of people around the world today especially those who are living in temporary settlements. A challenge was sent out to participate in "Slum Survivor". This is a weekend in October when young people create and live their own slum. The idea is to raise money for those who are experiencing the daily trials of living in temporary housing.
"My favourite seminar was about the persecution of Christians all around the world as it taught me that we are all the same in our beliefs in God. During that session they passed around secret Bibles that are smuggled to Korean Christians. They discussed how even prisoners practise their faith in secret"
A particular highlight of this year's trip was having Archbishop Justin Welby join us for two days. He led a question and answer time and the Communion service. He was very humble and related well to the young people. He allowed them to gather around him to pray for him.
We all felt so grateful to able to attend such an amazing event. It was a time of bonding and growth. Thank you to everyone who supported and prayed for us!
Find out more about youth activities on our youth page.